Regular price
HK$248.00
Sale price
HK$218.00
Unit price
per
Sale
Sold out
Share
View full details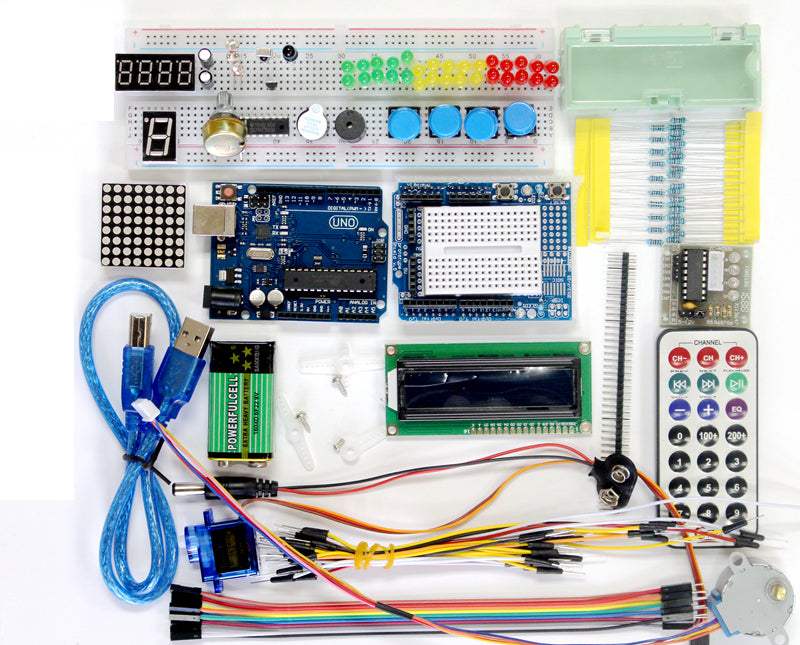 Uno R3 starter kit, unleash your creativity and design it as your personal robot.
Equipped with a large number of electronic component kits, including motherboards, LED lights, buzzers, resistors, infrared emitting components, bread wires, temperature sensors, and more.
Equipped with a large number of electronic components
Fully Arduino IDE Compatible
Equipped with 9V battery buckle and USB cable DC power supply
For interested beginners, the most economical kit to start your electronic programming
Applicable age: over 6 years old (if using welding tools, please use it accompanied by an adult)
The set includes the following elements:
UNO R3 development board 1
Prototype Expansion + Small Breadboard 1
MB-102 High Quality Large Breadboard 1
Advanced outer packing box x1
SMD component box x1
LED lights red, yellow and blue each x5 in-line resistance 220 ohms x5
In-line resistor 1K x5
In-line resistor 10K x5
Active buzzer x1
Passive buzzer x1
Wearing a hat big button switch x4
1 digital tube x1
4 digital tube x1
8*8 dot matrix x1
Ball switch x2
Photoresistor x3
Adjustable resistor x1
Flame sensor x1
Infrared sensor x1
LM35 temperature sensor x1
74HC595IC x1
Small infrared remote control x1
1602LCD LCD screen I2C x1
Single row pin x1
5V stepper motor x1
The latest UNL2003 driver board x1
SG90 9G servo x1
9V battery buckle (with 9V battery) x1
Colorful bread line about x30 USB cable x1
DuPont line x10
Electronic data (download by yourself) x1
The Arduino IDE runs on Windows, Mac, Linux and is a great start to learning programming.
CH340 Driver & IDE Download Arduino 21-section Tutorial: Mega
Teaching: GDrive