Regular price
Sale price
HK$650.00
Unit price
per
Sale
Sold out
Share
View full details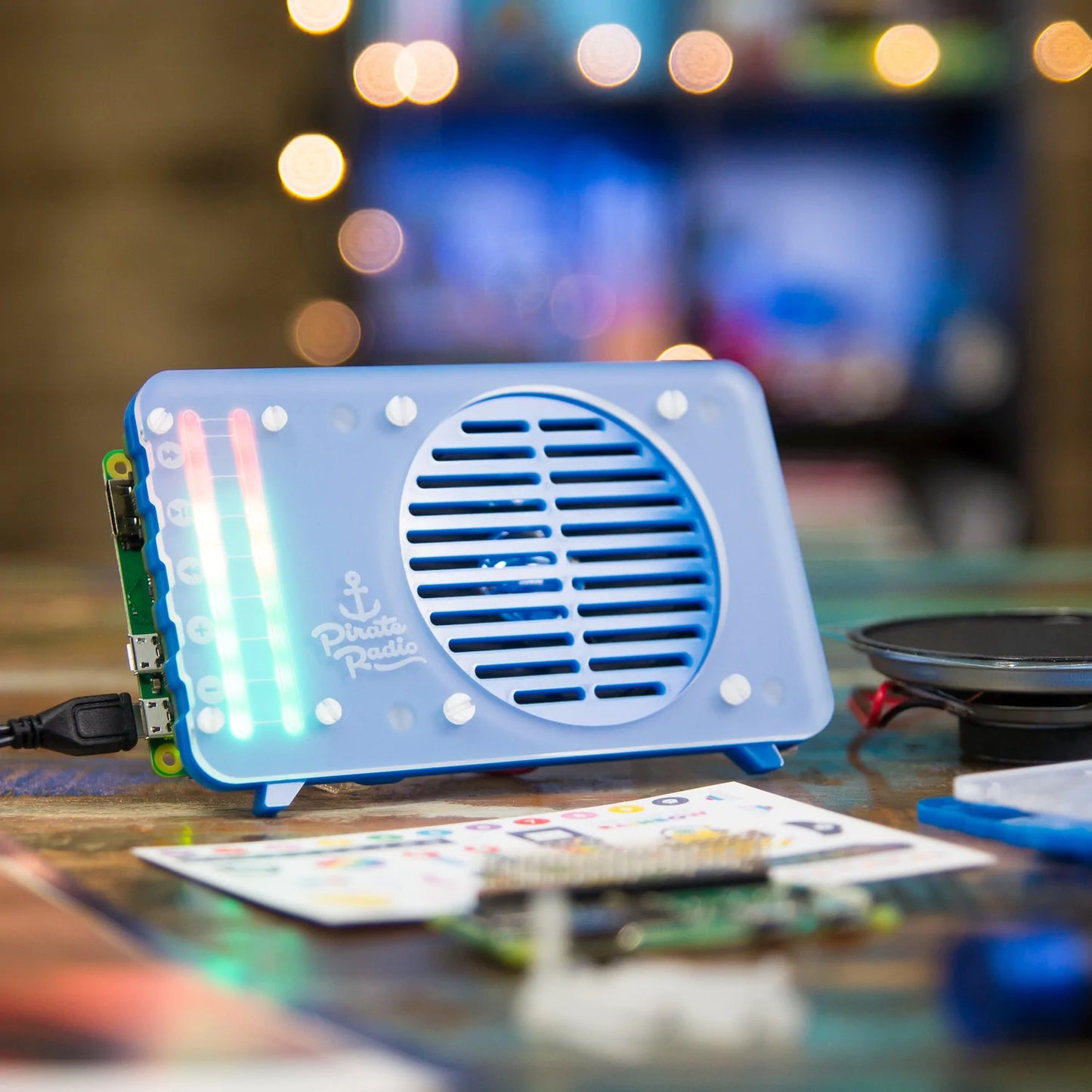 Build your own networked radio with the Pirate Radio Kit!
Updated version! The kit now includes a Raspberry Pi Zero WH, and the audio board now includes a pre-soldered header. No soldering required!
This kit includes everything you need* including a Pi Zero WH , audio board with VU meter LED, I2S DAC and stereo amplifier, 5W speakers and a nice vintage acrylic case to make it look business-like. It takes about 30 minutes to assemble (check out our assembly guide for details).
Kit Contents
Raspberry Pi Zero WH

Audio board with I2S DAC, stereo amplifier. VU meter and six buttons

Single 5W 4Ω speaker

Blue acrylic case**

50cm USB A to micro-B cable

USB A (female) to micro B (male) adapter

Mini to Full Size HDMI Adapter

Stickers (to personalize your pirate radio!)

Comes in a reusable tool box
* Just add your own micro-SD card
** We have recently tweaked the design of the back layer and legs and updated the build guide with additional instructions for these new parts.
The kit takes advantage of the built-in wireless LAN and Bluetooth on the Pi Zero WH, which means no need for a USB Wi-Fi dongle.
We've combined three different software items for your Pirate Radio: internet radio , Spotify streaming box , or AirPlay speaker .
feature
Dual I2S DAC/Amplifier (MAX98357A)

3W per channel

2 push-in speaker terminals

DIP switch selects mixed mono or stereo mode

16 RGB LED pixels (APA102), 2 rows of 8

6 edge mounted buttons

Software installer

and ALSA VU meter plugin

5W 4Ω speaker with pre-soldered wires

3-layer blue acrylic shell

Pi Zero W with single-core CPU and built-in wireless LAN and Bluetooth

adapter kit

50cm USB A to micro-B cable (to power your Pi from an existing charger or computer)

Pre-soldered head
software
Our nifty one-wire installer will configure your pHAT BEAT and install our ALSA VU meter plugin which uses the RGB LEDs on the pHAT BEAT to display sound levels.
We've also incorporated a Python library that allows you to control the LEDs independently if you want, and program the buttons to do whatever you want.