Regular price
Sale price
HK$15.00
Unit price
per
Sale
Sold out
Share
View full details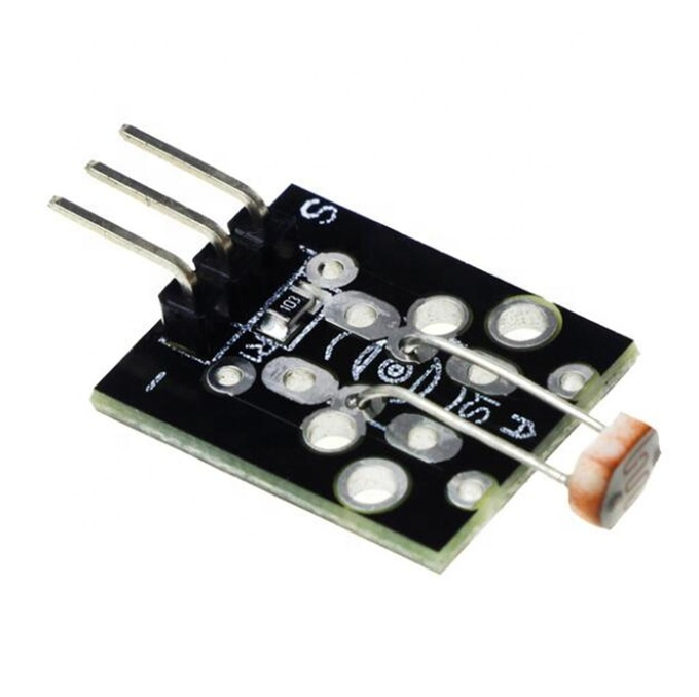 Photoresistor / Light Sensor / LDR Sensor
描述
光敏電阻,也稱為光敏電阻 (LDR),是一種光敏器件,最常用於指示是否存在光,或測量光強度。在黑暗中,它們的電阻非常高,有時高達 1MΩ,但當 LDR 傳感器暴露在光線下時,電阻會急劇下降,甚至低至幾歐姆,具體取決於光強度。LDR 具有隨所用光的波長而變化的靈敏度,並且是非線性器件。
該模塊由一個光敏電阻和一個10 kΩ串聯電阻組成。光敏電阻的電阻在有光的情況下會降低,在沒有光的情況下會增加。輸出是模擬的,決定了光的強度。
規格
工作電壓: 3.3V to 5.5V
輸出類型: Analog
連接圖
將電源線(中間)和地線 (-) 分別連接到 +5V 和 GND。將信號 (S) 連接到 Arduino 上的引腳 A5。
Description: 
This module consists of a photoresistor and a 10 kΩ in-line resistor. The photoresistor's resistance will decrease in the presence of light and increase in the absence of it. The output is analog and determines the intensity of light.
Specifications
Operating Voltage : 3.3V to 5.5V
Output type: Analog
Connection Diagram
Connect the Power line (middle) and ground (-) to +5V and GND respectively. Connect signal (S) to pin A5 on the Arduino.