Regular price
Sale price
HK$18.00
Unit price
per
Sale
Sold out
Share
View full details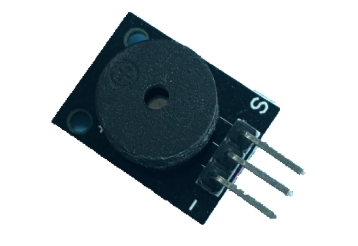 適用於Micro:Bit, Arduino, Raspberry PI
Active Buzzer 有源蜂鳴器
可發出單一頻率的聲音
有源蜂鳴器和無源蜂鳴器的分別:
有源蜂鳴器: 內有電路,通電後能發出固定頻率的聲音,常用於警報器。
無源蜂鳴器: 內不設電路,需以微處理器(Micro:Bit, Arduino, Raspberry PI)發出頻率訊號發聲,可發出不同頻率的聲音,可播放樂曲,直接通電不會發出聲音。
This Buzzer creates a sound with a frequency of 2,5kHz.
The active Buzzer-module doesn't need a square wave, unlike the passiv module (KY-006), to create a
sound. If it gets a minimum Voltage of 3.3V at its signal pin, the buzzer will create the square wave by itself.
Micro:Bit PXT Sample Code:
https://makecode.microbit.org/_TRmDqjV58EUw