Regular price
HK$298.00
Sale price
HK$268.00
Unit price
per
Sale
Sold out
Share
View full details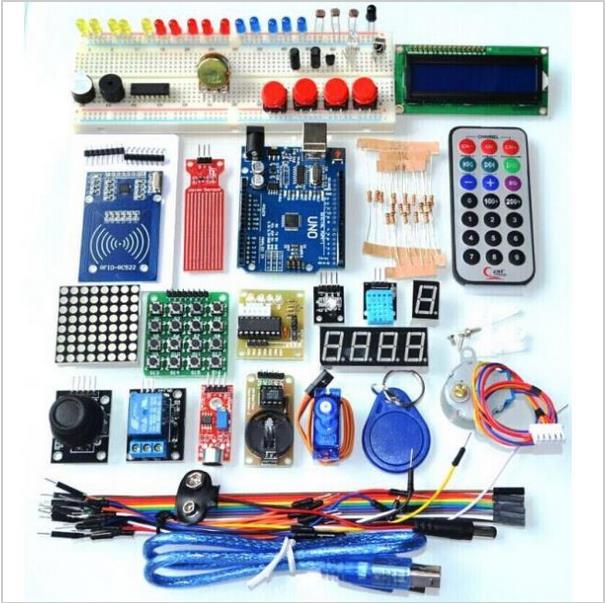 The new standard version of the starter kit, the LCD is upgraded to I2C, more suitable for beginners, and the display output is easier.
Uno R3 (Arduino Compatible) electronic programming starter kit, compatible with Arduino IDE development environment, unleash your creativity and design it as your personal robot.

Equipped with a large number of electronic component kits, including motherboards, LED lights, buzzers, resistors, infrared emitting components, bread wires, temperature sensors, LCD 1602 I2C displays, and more.
Arduino IDE compatible
Equipped with a large number of electronic components
Equipped with 9V battery buckle and USB cable DC power supply
For interested beginners, the most economical kit to start your programming
Applicable age: over 6 years old (if using welding tools, please use it accompanied by an adult)
Description:
The upgraded uno r3 starter kit includes many different electronics components.
Package Included:
1 X UNO Board
1 X USB Cable
1 X Jump Cable
1 X Breadboard
5 X LED Light
1 Pack Resistor
1 X Female to male dupond line
1 X Potentiometer
1 X Buzzer
1 X 74HC595
1 X Infrared receiver
1 X LM35
1 X Flame Sensor
1 X Ball Switch
1 X Photoresistor
1 X Key button
1 X Remote control
1 X 4-digit display tube
1 X 8*8 Dot matrix module
1 X 1-digit display tube
1 X Stepper motor driver board
1 X Stepper motor
1 X 9g Servo
1 X IIC 1602 LCD
1 X XY joystick module
1 X Temperature module
1 X Water test module
1 X RFID Module
1 X RFID keychain
1 X RFID White card
1 X Sound Module
1 X Relay Module
1 X Clock Module
1 X 4*4 Keyboard
1 X RGB 3 color module
1 X 9V battery Snap
Arduino 21 Section Tutorial: Mega
Teaching: Arduino Uno R3.zip