Regular price
Sale price
HK$15.00
Unit price
per
Sale
Sold out
Share
View full details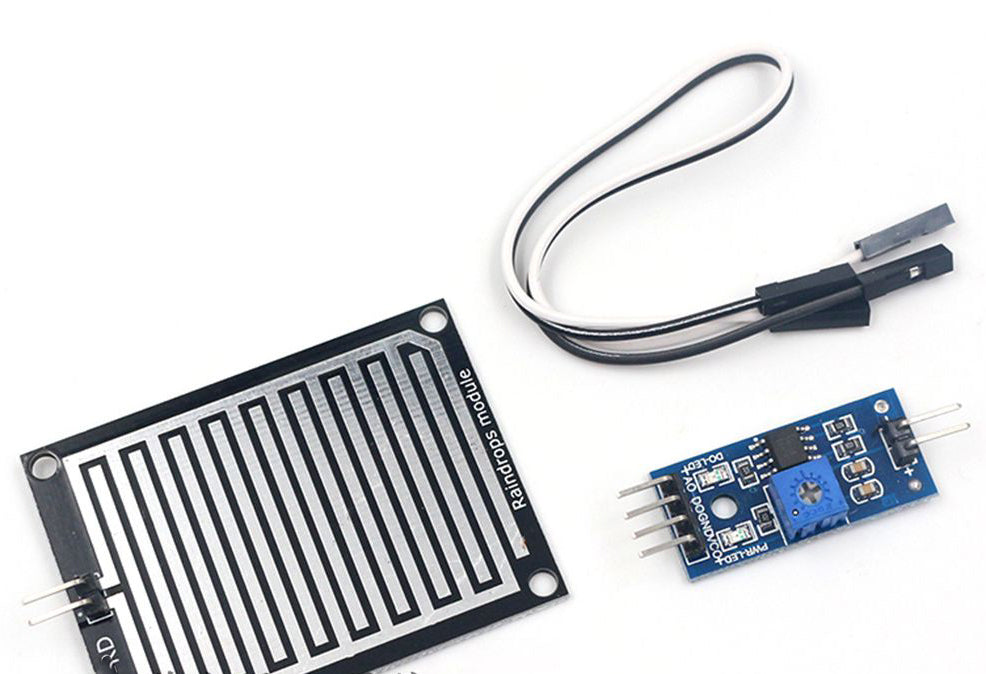 產品用途:
機器人套件,雨滴,下雨傳感器,可用於各種天氣狀況的監測,並轉成數定信號和A0 輸出。
產品介紹:
1、傳感器採用高品質FR-04雙面材料,超大面積5.0*4.0CM,並用鍍鎳處理表面,具有對抗氧化,導電性,及壽命方面更優越的性能;
2、比較器輸出,信號乾淨,波形好,驅動能力強,超過15mA;
3、配電位器調節靈敏度;
4、工作電壓3.3V-5V
5、輸出形式 :數字開關量輸出(0和1)和模擬量AO電壓輸出;
6、設有固定螺栓孔,方便安裝
7、小板PCB尺寸:3.2cm x 1.4cm
8、使用寬電壓LM393比較器
功能介紹:
接上5V電源,電源指示燈亮,感應板上沒有水滴時,DO輸出為高電平,開關指示燈滅 ,滴上一滴水,DO輸出為低電平,開關指示燈亮,
刷掉上面的水滴,又恢復到,輸出高電平狀態。
AO模擬輸出,可以連接單片機的AD口檢測滴在上面的雨量大小。
DO TTL數字輸出也可以連接單片機檢測是否有雨。
接線方式:
1、VCC:接電源正極(3-5V)
2、GND:接電源負極
3、DO:TTL開關信號輸出
4、AO:模擬信號輸出
發貨清單
1、如圖所示雨滴感應板和控制板各一塊
2、20cm杜邦線2根,方便接線
Introduction:
Power indicator, output LED indicator.
TTL output: TTL output signal for low level effectively. Drive power is about 100ma, can driven relay, buzzer, small fan, and so on directly .
Sensitivity can be adjusted through the potentiometer
Raindrops board and control board are separated, convenient to wire leads.
The raindrops plates has large area, and more conducive to detect the rain.
The board with a hole and convenient installation.
Control board size is 3*1.6MM
Raindrops board size is 5.4*4.0MM
Usage introduction:
Connect the 5V power, the power LED indicator light. If no rain on raindrop board, DO port outputs high voltage, then switch LED off, otherwise, D0 port outputs low voltage, switch LED on.
Remove the rain on raindrop board, system will recover to original state and output high voltage.
AO analog output, can be connected to the microcontroller AD port to detect the rainfall.
DO TTL output also can be connected to microcontroller to defect the rain.